The Cuisine
To anticipate the cuisine that will be served at ADMO, one has to imagine a crossroads between culinary paths and philosophies.
For Alain Ducasse, cooking is an unceasing quest for coherence between ingredients, know-how and places. He could have been an architect or a traveler. His vision as a chef borrows from both worlds, his inspiration.
Albert Adrià seeks the dish that hits the spot, the perfect flavor, the surprise. Creating surprise is at the heart of his approach to cooking, which draws on flawless technique and precision, the method.
For Romain Meder, cooking has become a philosophy. For him, the dishes are not worth as much as the project that surrounds and accompanies them. He wants to be the best link between an essentially perfect nature, producers whose talents are too often ignored, and food that he wants to be good for the planet as well as for his guests.
The junction of these three determined personalities will give us a unique vision of what author's cuisine is today.
ADMO's culinary project will continue the advances developed by the Naturality cuisine by seeking to reduce fat and sugar intake and raw materials of animal origin.
Amande, celeri et caviar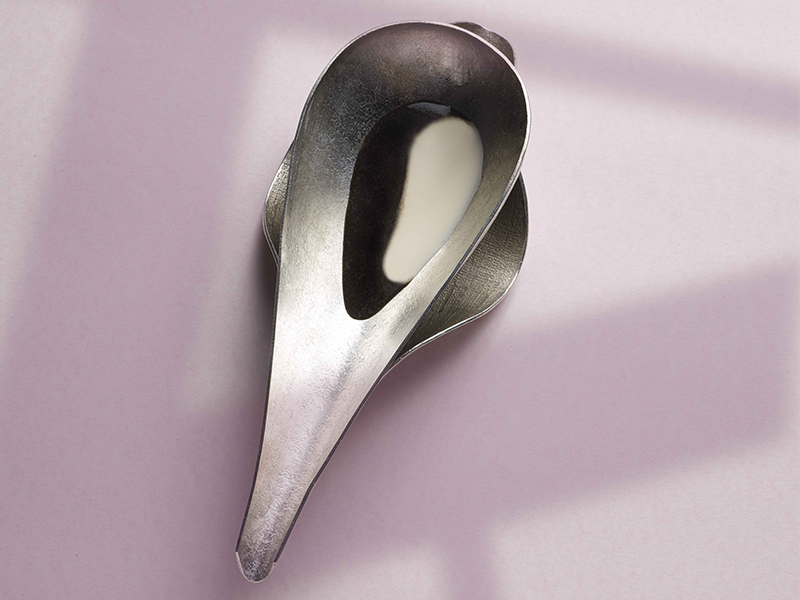 Shadows and lights of pressed caviar and almond-celeriac milk.
Châtaigne, anchois et curry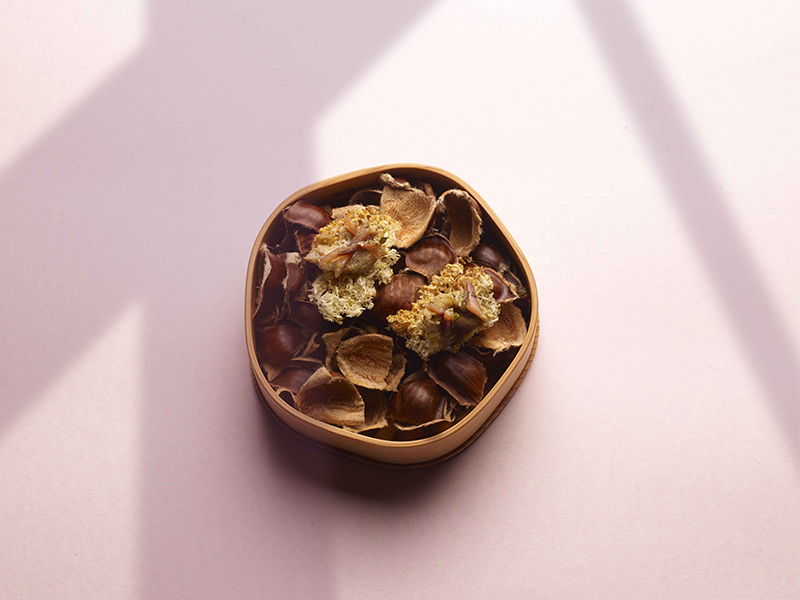 Delicate galette of negrette chestnut from Ardeche shaved and oven-baked. Chestnut butter, anchovy, curry leave.
Barquette croustillante, rouget et agrume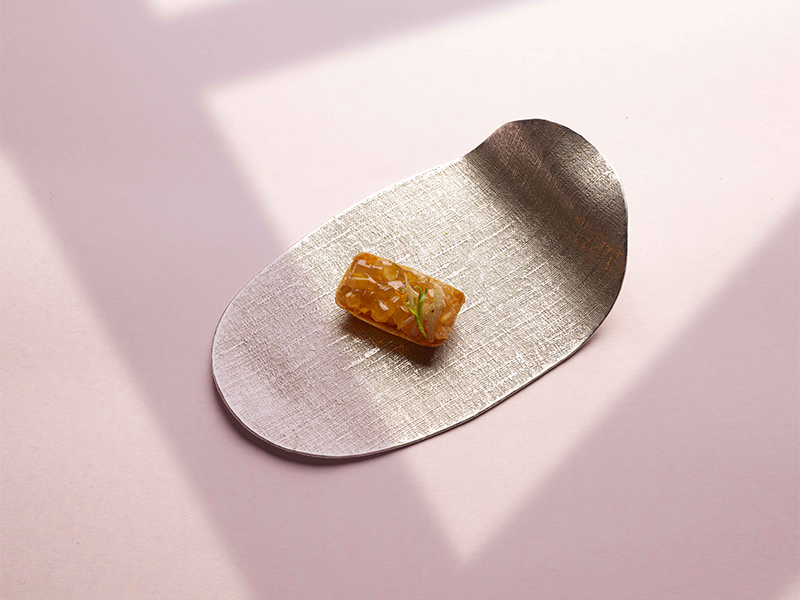 Crispy pastry sheet, red mullet from Boulogne-sur-Mer harbor tartare and fried scales.
saucisse d'huître et wakamé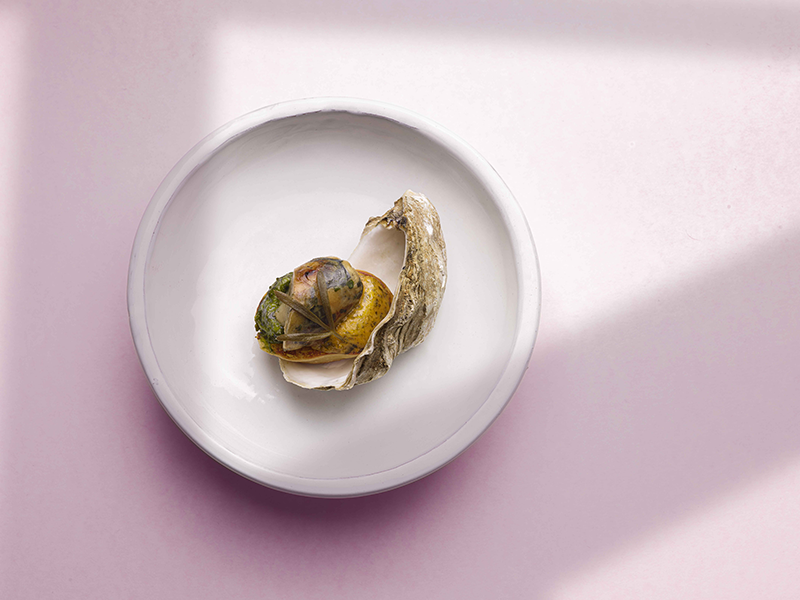 Oyster steamed bread and toasted, Yvonnick Jegat oyster sausage, seaweed, parsley and sofrito condiment.
Couteau, herbe et verveine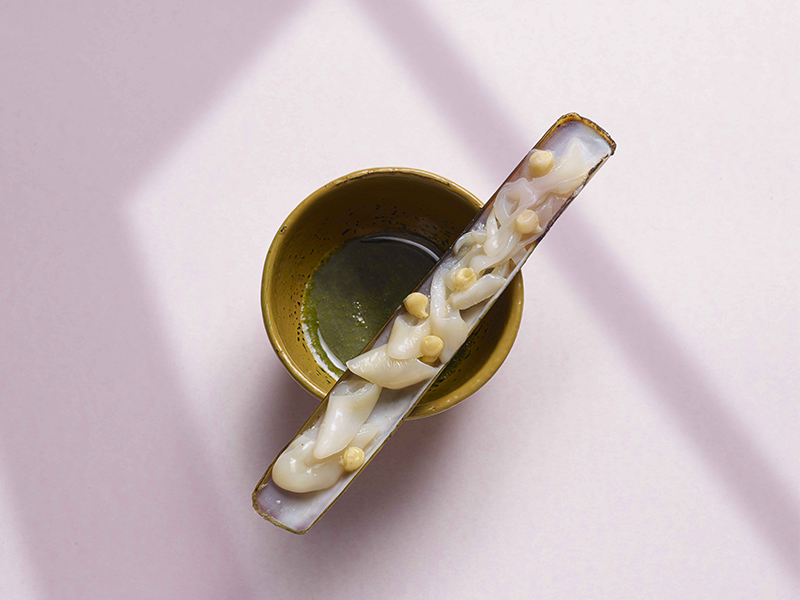 Quick-cooked razor clam from Galicia, tangy verbena butter. Parsley, coriander, buck's-horn plantain extraction topped with ginger, lemon and brown butter.
Vesce, citron et coriandre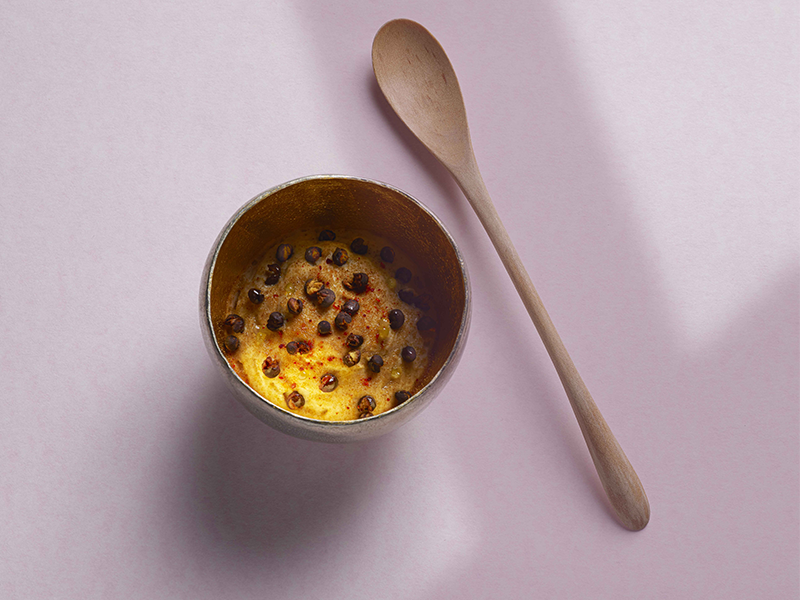 The vesce from Gaec Emmanuel et Marion is a leguminous plant consider as a green manure, served as a salad and foamy, shallot and vinegar powder, finger lemon and Espelette pepper. Shekwasha paste, a japanese citrus, in the bottom of the bowl.
Peau de Bacalao, Oursin et bouillon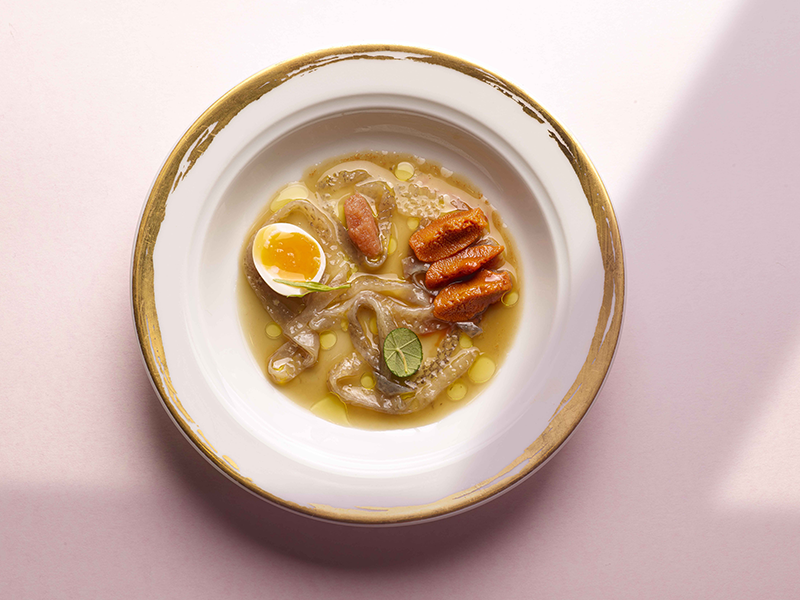 Salted cod skin soba, mushroom and sea urchin broth, sea urchin tong from Galicia and soft-boiled quail egg.
Chou-fleur mole et foie de lotte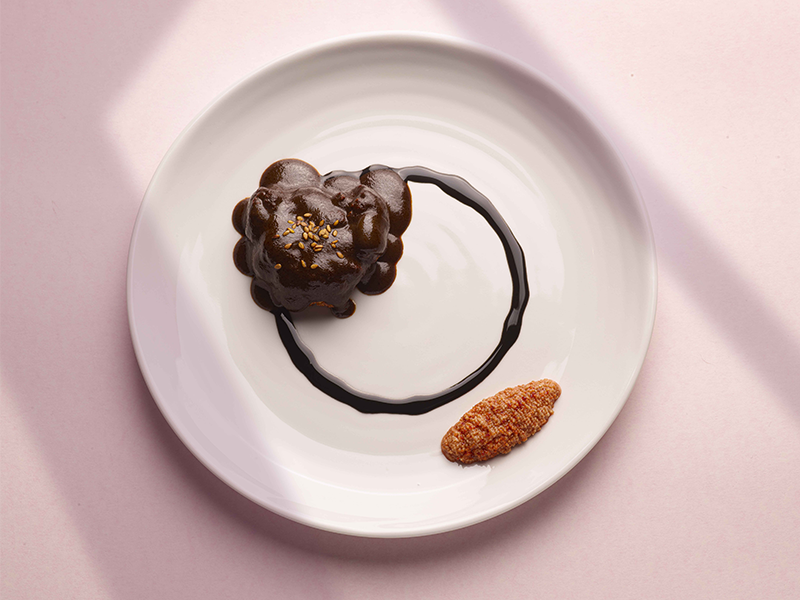 Mole, spicy Mexican sauce and black garlic, cauliflower with salt, then dehydrated and rehydrated in the juice of the leaves then roasted in hazelnut butter. Monkfish liver confit and black sesame paste.
Kaki, cynorrhodon et grenade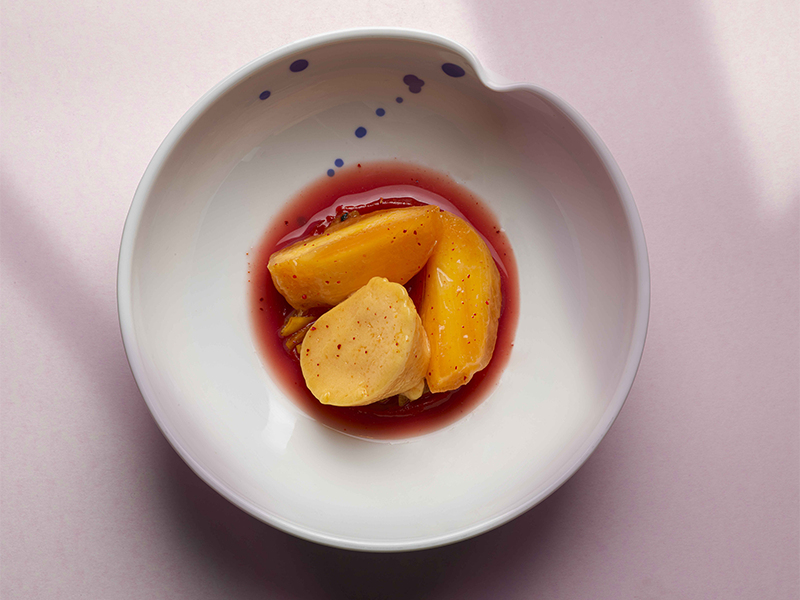 Fresh persimmon and calamansi with vinegar grilled on the BBQ. Rosehip condiment, calamansi vinegar. Fresh persimmon paste